Marston's halts Dormouse pub name change for Crown in Llay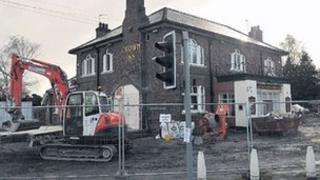 Villagers have won a campaign to stop a brewery renaming their local The Dormouse.
Marston's wanted The Crown Inn, Llay, near Wrexham to undergo the change of identity, but the firm has backed down after speaking to residents.
It is refurbishing the pub and had said the name change would give it "every opportunity to flourish".
But Llay Local History Society claimed the pub and its name were "rooted in the past and the history of the area".
Marston's said: "We have listened to the people of Llay and have agreed that it would be wonderful if we could not only preserve and improve on this historic pub for the community, but that we could also keep its historic name.
"Our investment here will create between 40 and 50 new jobs as well as providing a wonderful family-friendly pub serving good value food and a selection of quality drinks including cask ale fresh from our five regional breweries."
Marston's said it was looking forward to welcoming the people of Llay to the pub when it opened in May.
Vic Tyler Jones, the society's president, said last month that local residents discovered the pub's name was going to change "to The Dormouse, of all things," when posters were put up in the village a few weeks ago.
He said no permission was needed to change a pub's name, and said some pubs had been given new names that were "totally inappropriate".