B5105, Ruthin: Mwrog Street residents' worries over narrow road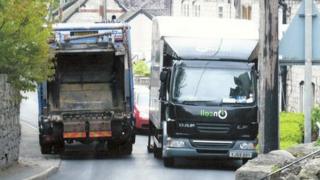 Residents say they fear somebody could be seriously hurt unless action is taken to widen a road.
Campaigners in Mwrog Street, Ruthin, which includes part of the B5105, complain that a section is so narrow lorries have to mount the pavement.
Resident Caeri Roberts says some passers-by have been hit by wing mirrors on vehicles.
Denbighshire council said it was taking residents' concerns seriously and would be meeting them on Wednesday.
Caeri Roberts said a petition containing a couple of hundred signatures would be handed to council officers at the meeting.
She and other residents say a section near Llanfwrog church is too narrow and cannot cope with traffic levels, making it hazardous for pedestrians.
Ms Roberts said she launched the campaign after her daughter Megan, eight, was nearly hit by a passing car.
She said: "It's an old road that goes through the village, and it more or less narrows into one lane.
"We have juggernauts coming down it, and they can't get past so they go on to the pavement."
She added: "We've lost count of the number of people in the community who have had their wing mirrors clipped, or been clipped themselves and been hurt.
"It's lethal, and someone is going to get seriously hurt.
"The council are being really helpful and we want to work with them."
A Denbighshire council survey recently found that on average 3,566 vehicles use the stretch daily.
A council statement said: "Officers from our traffic safety team are meeting with residents to hear their concerns.
"We are taking their concerns seriously and will be discussing possible solutions."