Ysgol Pen Barras choir conductor Elen Meirion dies after 'tragic accident'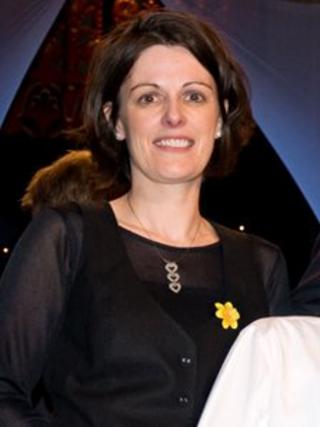 An award-winning school choir conductor has died after what her family says was a "tragic accident" at her home.
Elen Meirion, 43, taught at Ysgol Pen Barras, Ruthin, and directed the school's choir to the BBC's Songs of Praise junior school choir of the year title in 2011.
She was the sister of operatic tenor Rhys Meirion.
A family statement said her death in the early hours of Sunday had left an "irreplaceable void".
A spokesperson said: "Rhys and his whole family would like to express their deep shock and sadness in today losing Elen Meirion, aged 43 years, following a tragic accident at her home during the early hours of Sunday morning.
"Elen was a loving daughter and sister, as well as a devoted mother."
Originally from Tremadog, Gwynedd, she settled in the Ruthin area and the family said "she will be remembered by all who knew her for her tireless devotion to her work as a teacher at Ysgol Pen Barras, and to the local community that she cherished".
The family statement said Ysgol Pen Barras were the first choir from Wales to win the Songs of Praise competition.
The spokesperson added: "Elen's passing leaves an irreplaceable void in the family and the community as a whole.
"Although Rhys and his family will, in due course, celebrate her life, they wish, at this incredibly difficult time, to be allowed to comfort each other following their loss.
"They would like to express their sincere gratitude for the overwhelming number of condolence messages and support, providing them with greater strength in trying to come to terms with their tragic loss."
Marc Lloyd Jones, headteacher at Ysgol Pen Barras, said everyone at the school was "totally devastated".
He added: "Elen was a very special person, an inspirational teacher, loved by colleagues, parents and children."
Rhys Meirion has performed worldwide for companies, including Welsh National Opera and English National Opera, as well as on TV and at the National Eisteddfod.