Horse society's warning of ragwort danger to ponies used to manage Flintshire dunes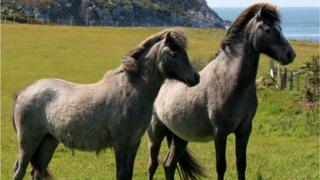 Horse lovers have raised fears about poisonous ragwort growing on dunes, which are part of a Flintshire conservation project.
Ponies are being used to graze Gronant Dunes and Talacre Warren site of special scientific interest.
British Horse Society (BHS) members want the ponies removed, or the plants pulled up and burnt.
Rangers said they would be looking to "pull or treat the ragwort" in the grazing area.
Ragwort can cause liver damage in horses and ponies and the BHS is running a campaign to highlight the problem.
But the native plant is also seen as being important in supporting insect life, including butterflies and moths.
Rose Brooke, the BHS press officer for north east Wales said she had been to the site and "there is ragwort all over it".
Mrs Brooke said she had contacted the council about the problem.
"No-one wants to see a horse die because it has been poisoned.
"This weed really is my worst nightmare but people are just too lazy to go round to pull it up," she added.
The ponies used to graze the area come from the Carneddau mountain range in Gwynedd.
Mandy Cartwright, the coastal ranger for Presthaven Sands, said the dunes are one of the last remnants of a dune system that once extended along most of the north Wales coast.
"The introduction of grazing to this site by ponies will encourage a richer diversity for sand dunes species to flourish," she said.
"There are few breeds that are hardy enough to graze here, and we're honoured to have native Welsh Mountain ponies on this site."
Senior countryside ranger Mike Taylor said the ragwort occurs naturally in dune systems and historically has not been excessively controlled.
"The grazing project is new and a trial to see if the rare dune plant communities are affected by grazing which is deemed to be the best means by which to manage the ecosystem.
"We are however grateful for this concern being brought to our attention and over the next week we will look to pull or treat the ragwort in the grazing area with the co-operation of the Countryside Council for Wales and the landowners," he added.
Some wildlife conservationists say ragwort is only a real risk to horses when in put in a dried form into hay, and growing wild, horses will avoid the plant.
Neil Jones, biodiversity campaigner with Swansea Friends of the Earth, and a member of Buglife, said: "It really is a tiny problem and we should not be damaging nature reserves because of the hysteria."
Defra guidance says "in the right place and where there is no risk to animal welfare" ragwort contributes to the biodiversity of the flora and fauna in our countryside.