Rhyl beach closed after raw sewage spill at Clwyd Estuary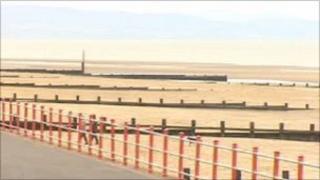 The seafront at Rhyl in Denbighshire has been closed to bathers and an emergency clean-up plan started after a sewage spill at the Clwyd Estuary.
People are being warned to stay out of the sea along the nearby coast after a pump at a pumping station broke down.
Environment Agency Wales said the Welsh Water pumping station was flooded following recent heavy rain.
Denbighshire council said: "People and their animals are advised to stay out of the sea water until further notice."
The local authority said it was issuing a warning about the potential of poor bathing water quality along the county's coastline as a precautionary measure.
Warning signs are being set up along county beaches following the incident.
The agency said its officers were on site and taking water samples for analysis.
'Diluted'
It said: "Results from the samples will provide information about the extent of the environmental impact of the incident."
The council said Welsh Water engineers had tried for two days to contain the spill at Westbourne Avenue pumping station.
It said high water levels in the River Clwyd following heavy rains had heavily diluted the sewage levels.
The council said: "If people come into direct contact with this water, they are advised to wash with soap and clean water. "