Rhyl beach still closed after Clwyd Estuary sewage spill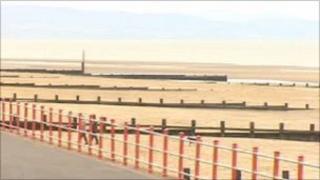 Rhyl's seafront will remain closed to bathers until at least lunchtime on Thursday after a sewage spill in the Clwyd Estuary.
An emergency clean-up plan has been implemented, but people are being warned to stay out of the sea along the nearby coast.
The spill occurred after a pump at a Welsh Water pumping station broke down.
Environment Agency Wales said the station was flooded following recent heavy rain.
Warning signs have set up along beaches following the incident.
Denbighshire council has issued a warning about the potential of poor bathing water quality along the county's coastline as a precautionary measure.
The authority said: "People and their animals are advised to stay out of the sea water until further notice."
The agency said its officers were on site and taking water samples for analysis.
It said on Wednesday evening that the seafront would remain closed until 13:00 BST on Thursday at the earliest, when its officials will next check the incident.
The council said Welsh Water engineers had tried for two days to contain the spill at Westbourne Avenue pumping station.
It said high water levels in the River Clwyd following heavy rains had heavily diluted the sewage levels.
A spokeswoman from Welsh Water blamed "extreme, heavy rainfall" for the flood which damaged electrical equipment, causing it to fail.
"We took temporary pumps to site as soon as possible so they could continue to pump waste-water from the sewer network in to a standby storage tank," she added.
"The temporary pumps are not able to empty the system as rapidly as the permanent pumps and the tanks are re-filling with storm water."
To avoid further flooding, emergency discharge points in the system have been releasing waste-water, highly diluted with rainwater, in to the estuary, which is what they are designed to do.
"Our operational teams were able to reinstate one of the permanent pumps at 3pm yesterday and the second pump is due to be operational this evening, bringing the pumping station back to normal operating capacity," she said.