Edward Clarke, 96, oldest member of Wrexham Zumba class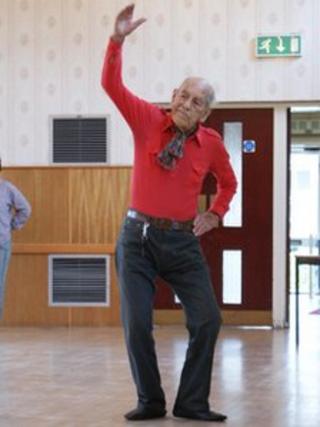 When Edward Clarke started dancing at the age of 13, barn dances and the Charleston were all the rage.
Now, aged 96, he is mastering another dance-exercise sensation - Zumba.
Mr Clarke, a keen dancer all his life, is the oldest, and only male member of the weekly Zumba Gold over-50s dance club that meets every Thursday at Wrexham's Memorial Hall.
Zumba is a Latin dance-inspired fitness program which was created in Colombia and has become a global fitness craze.
Mr Clarke, a retired baker born in Wrexham in 1915, believes more men should be encouraged to join the fitness classes, adding: "Time is short, and not to enjoy it now would be a crime."
He has enjoyed dancing since he was 13, and says it was thanks to dancing that he met his late wife, Dorothy.
"We did a slow waltz," he said.
"As I left her, she continued to hold my hand. We got together and for 65 years I was in heaven.
"Back then, everybody went to dances. We had a lot of barn dances and live bands.
"There was one dance where you threw your partner all over the floor.
"I remember the Charleston. Before that, there was the Cakewalk. It was like a march that the dancers from the cotton plantations used to do.
"Then of course there were the slow waltzes, even the tango."
Mr Clarke has been enjoying Zumba for about three years.
As the only male member of the over-50s class, which meets every week, he says more men should join in.
"It may be something in the genes, in the Welsh mentality - a lack of confidence.
"It could be they think it's feminine."
Despite "using muscles you've never used," he said Zumba gives him "fantastic pleasure" and allows people to move in a natural way
He says: "If you don't do it you are missing out on so much.
"Time is valuable. Use it."
Instructor Julie Kirk, a professional dancer, said: "Edward's a complete inspiration, not only to his fellow participants, but to me.
"I absolutely love it when he comes to my classes because it proves you are never too old to start dancing and looking after your body."