Rhyl water tests as Clwyd Estuary sewage spill closes beach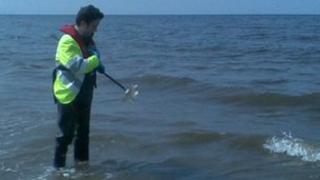 Regular tests will continue to be taken on Rhyl's seafront to assess the impact of a sewage spill in the Clwyd estuary.
The beach has been closed to bathers since an incident at a pumping station activated an emergency discharge of diluted sewage after being flooded by heavy rain.
Warning signs have been put up nearby.
Environment Agency Wales (EAW) officers have been taking samples around the coastline at regular intervals since the spill on Wednesday.
They say the area will remain closed until Friday at the earliest.
"Samples are currently being analysed and will build a picture of the environmental impact of the incident," said an EAW statement.
Denbighshire council said it was awaiting the results of the water quality tests before the situation can be reviewed.
'Damaged equipment'
It follows a pump breaking down at Dwr Cymru Welsh Water's Westbourne Avenue pumping station on Wednesday.
A council spokesperson said: "Dwr Cymru Welsh Water have made efforts during the last one to two days to carry out repairs and contain the waste, however some diluted sewage had been released.
"The council is in regular contact with Environment Agency Wales and Dwr Cymru Welsh Water regarding the incident and tests on the water quality have been carried out."
The authority said people and animals should stay out of the water until further notice.
And it warns people to wash with soap and clean water if coming into direct contact with the water.
On Wednesday, a spokeswoman for the water company blamed "extreme, heavy rainfall" for the flood which damaged electrical equipment, causing it to fail.
The discharge into the estuary has since stopped.