Rhyl beach reopens after Clwyd Estuary sewage spill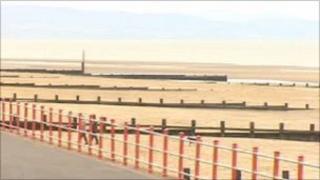 Rhyl beach has been reopened after results of water monitoring following a sewage incident.
Denbighshire council has removed signs warning people to stay out of the water after assessing the impact of the spill in the Clwyd Estuary.
It follows a pump breaking down at Dwr Cymru Welsh Water's Westbourne Avenue pumping station on Wednesday.
Environment Agency Wales (EAW) officers have been taking samples at regular intervals since the spill.
The beach was closed after an incident at the pumping station activated an emergency discharge of diluted sewage when it was flooded by heavy rain.
A Denbighshire council spokesperson said: "Recent samples of water quality taken have been returned and the Environment Agency have closed the operational part of the incident, and the council has made decision to lift the precautionary warning.
"We are delighted to lift the warning signs from the beach."
On Wednesday, a spokeswoman for the water company blamed "extreme, heavy rainfall" for the flood which damaged electrical equipment, causing it to fail.
The discharge into the estuary has since stopped.