Two accused of murdering take-away delivery man Gabor Sarkozi in Meliden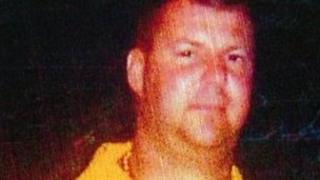 A Chinese take-away delivery driver was punched, kicked and stamped to death in Denbighshire, a jury has heard.
Gary Bland, and his nephew James Siree, both from Rhyl, deny murdering Gabor Sarkozi, who worked for the Happy Garden take-away in Meliden near Prestatyn.
Mr Sarkozi, 38, a Hungarian national, was attacked on 18 October last year.
The prosecution claim his killers "walked off nonchalantly" after leaving him for dead. The trial continues.
Prosecution barrister, Elwen Evans QC, said Mr Sarkozi was only working on the day he was killed because a colleague had gone off sick.
The jury was told that James Siree made a phone call immediately after the assault, telling his then-girlfriend, "I think I've just murdered someone".
Ms Evans said that such was the nature and extent of the injuries inflicted on Gabor Sarkozi, his death had been inevitable.
His principle injuries were to the head and face and although efforts were made in hospital to save him the reality was that he died at the scene of the attack, she added.
Ms Evans said that after the attack the two men are alleged to have "walked off nonchalantly" and went across a field before they were arrested a short time later by police.
Both had blood on their clothing and footwear which forensically linked them to a kicking assault on Mr Sarkozi, she said.
When interviewed Mr Siree said they had been acting as Good Samaritans, and were merely trying to help the injured Mr Sarkozi.
But he then said 'no comment' and Mr Bland made no comment from the start, she added.
The trial before Mr Justice Griffith Williams is due to last three weeks.
Jury members have been told they will be taken on a site visit on Wednesday to see various locations involved in the case at Meliden.