Denbighshire council sorry as Penlington-Pennington vote mix-up loses seat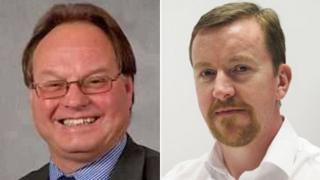 A council has apologised after a Labour candidate lost an election when votes were wrongly handed to a Tory rival.
Denbighshire council said human error was to blame for votes for Paul Penlington being counted towards Allan Pennington in the elections on 4 May.
It said that if the votes for Mr Penlington had been allocated correctly, he would have won for Labour with 605 votes to Mr Pennington's 340.
Labour has a week to decide whether to challenge the result before a judge.
Mr Pennington was declared the winner of one of three county council seats in Prestatyn North with 580 votes, and Labour's Mr Penlington received 366.
However, the council confirmed a mistake had been made, and it was now up to Mr Penlington to decide whether to challenge the result.
Labour won the other two county council seats in Prestatyn North. Mr Penlington was also standing for Prestatyn Town Council, where he did win a seat.
Mr Pennington said he could not comment on the mistake.
Labour has also been asked to comment.
Council chief executive and returning officer Mohammed Mehmet said he had apologised.
He said that "on this rare occasion, a human error has been made".
He went on: "It is believed the mistake was made due to the strong similarities in the names of both candidates standing in the same electoral ward.
"Although that does not excuse the mistake, we would like to reassure Denbighshire residents that mistakes of this nature are extremely rare.
"We will be looking at our procedures again to see how we can tighten them further."
Labour is the biggest party in Denbighshire, where it won 18 of the 47 seats, but the council is under no overall control and independent Hugh Evans has been reinstated as leader.
The independents, who have 12 seats, are seeing if they can form an administration with Conservatives, Plaid Cymru and Liberal Democrats.