'Hour to fill bath' action pledge to fix water pressure at Flint's Maes Glas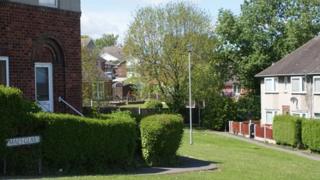 A pledge to remedy low water pressure affecting homes where people are forced to take it in turns to use their taps has been made.
Flintshire council has apologised to residents such as Brian Groves, 50, who says it takes over an hour to run a bath at his flat in Maes Glas, Flint, if other people are using their water.
He says the problem started two years ago after new mains pipes were fitted but got worse after a pipe burst.
The council said remedial work is due.
Animal park worker Mr Groves said the problem in the area had worsened after a pipe burst in the street four weeks ago.
He said this week alone it had been taking over an hour and a half to half-fill the bath in his ground floor flat.
He said his neighbours had taken to bathing at their relatives' homes while the low water pressure problem is resolved.
"If I hear them running a bath I don't put my washer on," he said.
"If I turn it on and anyone else is in, it goes down to a trickle," he added.
Pressure problem
The council is responsible for the pipework on the street, which has a mix of houses and flats.
The problem is understood to affect several of the dozen properties in the street.
A Flintshire council spokesperson said: "We are aware of the water pressure problem that exists at the properties in Maes Glas and we are in the process of tendering for the remedial works required.
"We do apologise for any inconvenience being experienced by the tenants and leaseholders."
A spokesperson for Welsh Water said: "The residents at Maes Glas are not directly supplied by our water mains. The properties are supplied via a main owned by the local authority.
"We have tested the water pressure on our local water network and found that it is normal."