Milk Link and Arla Foods amba in dairy merger plan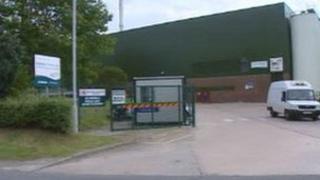 The owners of a cheese-making plant in Denbighshire plan to merge with one of Europe's largest dairy firms.
Milk Link employs about 90 people in Llandyrnog, which is home to one of its six creameries in Britain.
The merger with Arla Foods amba, which is owned by Danish, Swedish and German farmers, would create the largest operator in the UK dairy market.
Milk Link said the proposals would not affect jobs at its Denbighshire creamery.
The firm bought the plant in Llandyrnog in June 2009 after the co-operative Dairy Farmers of Britain (DFOB) went into receivership.
Cheddar cheese has been made there since the 1920s.
The Milk Link co-operative, which has 1,600 dairy farmer members around Britain, also has a packing plant on the Wales border at Oswestry, Shropshire.
Neil Kennedy, Milk Link's chief executive, said the merger would create a strong platform for a sustainable future for its members.
"Milk Link's 1,600 British dairy farmer members will have a stake in one of Europe's largest and most successful dairy businesses and play a positive role in its future development," he added.
Arla Foods amba does not process cheese, so joining forces with Milk Link is seen as a "complimentary merger".
The new group would process more than 3bn litres of milk a year, about a quarter of UK production, and would have combined sales of more than £2bn.
'Attractive partner'
The proposal will be subject to approval by Milk Link's members, Arla Foods amba's board and relevant regulatory authorities.
Arla is responsible for some of the UK's most popular dairy brands including Cravendale, Lurpak and Anchor.
Its chief executive in the UK Peter Lauritzen said: "The enlarged business will be focused on delivering a sustainable future for our farmer owners.
"Arla has a strong record of investing in facilities and brands in the UK. Together we will be able to offer British retail and food service customers with a full range of high quality dairy products from a single, secure, source, making us an even more attractive partner for British retailers."
Dei Davies, chairman of the Milk and Dairy Produce Committee with the Farmers' Union of Wales, told BBC Wales: "It's excellent news, we needed something like this to move the market forward.
"Arla, with the merger with Milk Link, have promised that British farmers that are with Milk Link will get the same milk price as their Danish farmers and that averages roughly 2p higher than the level we're at at the moment.
"We will be in a good position.
"We will be a part of the Arla company and any profits they make go straight back into the milk price, it doesn't get siphoned off into shares or dividends."