James Siree denies Gabor Sarkozi murder trial 'stories'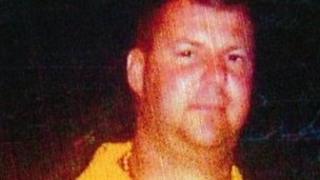 A man accused of murdering a takeaway delivery driver has denied "making up stories" to cover his role in a joint attack on the man with his uncle.
James Siree, 22, and his uncle Gary Bland, 42, both of Rhyl, Denbighshire, both deny murdering Gabor Sarkozi in October last year.
He faced further cross examination at Mold Crown Court on Tuesday over the incident at Meliden, near Prestatyn.
Mr Bland is expected to give evidence from the witness box on Wednesday.
The prosecution claims the men attacked Mr Sarkozi twice, and punched, kicked and stamped on him.
Mr Siree denies being involved in an attack on Mr Sarkozi, saying he acted as a Good Samaritan when he saw the victim lying injured after being robbed.
He claims they found Mr Sarkozi already injured after he had been robbed and helped him back to the village after he told the pair that he wanted to return to the takeaway where he worked.
Mr Siree has said that it did not cross his mind to flag down a passing car or to knock on someone's door for help.
He said that Mr Sarkozi had refused an offer of calling for an ambulance, saying that he did not like ambulances.
The defendant said that he and his uncle had supported Mr Sarkozi as they helped him towards the Happy Garden takeaway.
Giving evidence, Mr Siree said that he then went down an alleyway to urinate while his uncle helped Mr Sarkozi stand by a wall.
But when he came back from the alleyway Mr Sarkozi was staggering off towards the chip shop and his uncle told him that the injured man had not wanted to wait.
Denials
Elwen Evans QC, prosecuting, accused Mr Siree of lying and making up stories and claimed that he had been part of a joint attack on Mr Sarkozi.
Mr Siree repeated his denial that he had confessed to the murder in a mobile call to his then girlfriend.
It is alleged that he said that he had murdered a Hungarian man and that he had "stamped someone clean out".
In evidence, Mr Siree said that he had said he could "murder a spliff", and that he had said to his uncle that he could "knock him out" while play fighting.
He denied claims that after attacking Mr Sarkozi, the pair hid in the alleyway before making off over a field, only to be arrested when they got back to the road.
The jury was told that the prosecution and defence closing speeches would be completed on Thursday.
The case continues.