Flintshire Access to Action ID card for young in care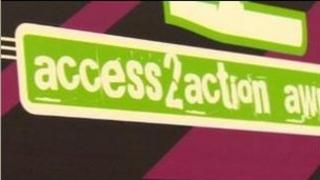 An ID card has been launched for young people in care, or who are carers themselves, to explain their status when using council services.
Access to Action (A2A) cards will be used in Flintshire at the request of those who find it hard to explain their status in school to teachers.
The scheme is run by Barnardo's and Flintshire council.
One care leaver, Kate Jones, 21, said it was a good idea which would prove a big help.
"It will make a real difference to those young people who need it, who don't want to have to explain themselves every time they go to social services' reception, or in school," she said.
"When my mum died I could really have done with an ID card to help explain my situation.
"At the time, my behaviour wasn't good but I really didn't want to have to talk about what had happened, and I didn't want to explain myself.
"In fact, things got so bad, that I did end up writing my social worker's name and phone number on a piece of paper and slamming it in front of my teacher and telling her to ring it if she wanted to know what was the matter with me.
"If I'd had an ID card, it would have made things a whole lot more straightforward."
Wales children's commissioner Keith Towler, who attended the launch at Theatr Clywd, said: "My report, Full of Care, found that most young carers felt that the vital role that they play in society went without recognition or appreciation within their communities.
"As a result of this I recommended the development of a national ID card to help them clearly identify themselves as young carers, gain acknowledgment of their role and to provide them with greater access to supportive understanding.
"By extending this card to children and young people in care, Barnardo's Cymru and Flintshire's social services have taken a huge step towards improving the lives of some of society's most vulnerable children and young people.
"I am eager to see every local authority in Wales establish a similar scheme."
'Recognition they deserve'
Teenagers looking after parents with health problems and disabilities have also spoken of how they have not been understood by teachers who are not aware of their home lives.
Sarah Matthews from Barnardo's Cymru said the card will help youngsters overcome some of the barriers they face.
"Eventually, the cards will let medical professionals know that the person they care for has given consent for them to discuss issues including their condition, medication and prognosis," she said.
Councillor Christine Jones, cabinet member for social services at Flintshire council, said the cards will give the youngsters the "recognition they deserve".
She added: "The young people have identified social services and schools as the priority areas in stage one as areas where the card could assist them most."