Ruthin market moves from jail to town centre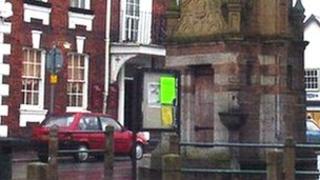 A market that has been sited at a town's historic jail is moving to a new location just off the main square.
Ruthin produce market has been based in the courtyard of Ruthin Jail since it was started in 2005.
Other locations have been tried in that time but now Denbighshire council says it can use Market Street car park.
Market committee chair Anna Shipley, said: "The jail is an attractive location but not one people are going to stumble across."
She added: "We had a number of trials on St Peter's Square which was perfect and we felt went well and we had hoped we could locate there, but because it required a road closure it was not universally supported and we did not get permission."
The produce market was put on hold in May while details of the current move were agreed.
The new location will see the market taking up about 10 parking spaces.
Rural regeneration agency Cadwyn Clwyd agri-food officer Robert Price said the market "deserves a prominent place" as a showcase of food produce from the Vale of Clwyd.
He said: "This sort of weekly event can really bring visitors flocking in and help rejuvenate a town."
Around 40 businesses and food producers are signed up for the market.
'Case study'
Last month a week-long series of events were held in the town to find residents' views on how the town should develop.
Ruthin "Future Week" was backed by the Design Commission for Wales (DCW), which described Ruthin as a "case study for the future of market towns".
May also saw Ruthin win one of the main categories in the Action for Market Towns (AMT) 2012 awards.
AMT is a national charity dedicated to promoting small towns and Ruthin won the Wales Partnership and Strategic Working category.