Whitford sphereing centre doubts after horse scare claims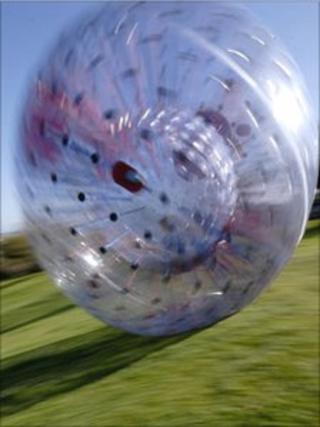 A centre which offers zorbing - where people roll down hills in inflatable balls - could to be told to stop after claims it scares horses.
Temporary permission was granted for the activity, also known as sphereing, at Whitford, Flintshire, to assess the impact on a nearby bridleway.
But planners are recommended to refuse further permission after complaints from the British Horse Society.
A decision by planners at a meeting on Wednesday was deferred.
The temporary permission granted in 2011 has expired and an application made by Have You Got the Ball Ltd, to continue operating, was discussed by planners on Wednesday.
A report says: "It is recommended to refuse this application given the complaints by the British Horse Society at the Flintshire Local Access Forums of horse riders being put off using this part of the bridleway for fear of themselves or their horses having an accident and the reported incident of one rider being thrown from a horse which bolted off, when the activity was in use."
According to the report, "the national equine database shows that there are 5,300 horses registered in Flintshire".
However, the county's tourism manager supports the application, adding that 1,300 people have used the centre since last year.
Supporters claim it brings employment and tourism to the area.