Flintshire school strike after member of staff loses job in Ysgol y Foel restructuring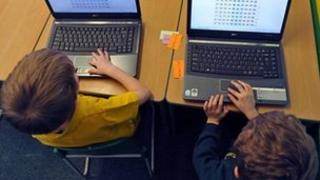 Members of the teaching union NASUWT are striking at a Flintshire school.
One member of staff at Ysgol y Foel community primary school, in Cilcain, has lost their job as a result of restructuring.
The union says it is a direct result of the Welsh government and the Flintshire authority's failure to fund education adequately.
Flintshire council said the school had fewer pupils and the reorganisation best met the needs of the children.
"If Ysgol y Foel was in England the school could have an additional £47,716 in its budget," said Chris Keates, the NASUWT general secretary.
"If Ysgol y Foel was in neighbouring Denbighshire the school could have an additional £44,319 in its budget.
"In either circumstance there would be no need to axe a teaching post," he added.
Mr Keates said union members at the school are "standing up for standards and fighting against the injustices and inequities of the Welsh education funding system".
Rex Phillips, the NASUWT Wales Organiser, said the union had made a "strenuous effort" to avoid taking strike action at the school.
He said the member of staff selected for redundancy had offered to work mornings only.
Funding
This would allow the governing body to make a significant saving and avoid the need to introduce cross-phasing (teaching children from different key stages) that has been the cause of great consternation among parents.
"Standards and delivery of education at the school would have been protected.
"Regrettably, the governing body rejected this compromise yesterday," he added.
Councillor Chris Bithell, cabinet member for education with Flintshire council, said the governing body of the school are facing falling pupil numbers "and have to reduce staffing to remain within budget".
"We understand that the governing body will continue to apply its existing policy of annual determination of classroom organisation to best meet the needs of the pupils," he said.
Mr Bithell added that Flintshire's expenditure on education, as a percentage of the council's expenditure, is in the top four (for authorities) in Wales.
"Funding per pupil to Cilcain is above the county's average for primary schools.
"The school has 81 pupils and 15 staff and with the exception of the nursery/reception class, remains open as normal during today's strike action," he added.