Coldplay gold disc auction nets £562 for Pantymwyn hall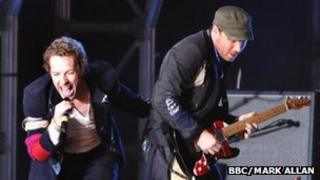 A Coldplay gold disc auctioned to help restore the village hall where guitarist Jonny Buckland grew up has raised £562.
Buckland, who lived in Pantymwyn, Flintshire, as a child, was alerted to the cause by his parents, who still live in the area.
He donated the disc, which marks 100,000 sales of the best-selling band's latest album, Mylo Xyloto.
The Pantymwyn hall work will cost over £43,000.
Organisers said they were a few thousand pounds short of the target.
The disc, which was sold by auctioneers Bonhams in London on Tuesday, was part of an entertainment auction which included Coldplay frontman Chris Martin's Yamaha CP70 piano, although that was not part of the Pantymwyn fundraising.
Bonhams had expected the disc to attract plenty of interest from Coldplay's huge following.
Katherine Williams, senior specialist in entertainment memorabilia, said before the sale that not many Coldplay-related items had comes onto the market.
"I think that's because they keep a lot of things and auction things off or sell them for charity themselves," she said.
Buckland's family moved to Pantymwyn, near Mold, when he was four. He attended Ysgol y Waun in Gwernaffield and Mold Alun High School, where he studied A-level music.
He started playing guitar as a young boy and met fellow Coldplay members during their first week at University College London in the mid-1990s.
The village hall committee say Buckland used the hall with other youngsters for parties and plays while he was growing up.
Plans for the hall - which is used for concerts among other community events - include a new roof, walls and doors.
Christmas plays
Chris Johnson, the village hall committee chairman, said Coldplay had already given £10,000 to the fund through the band's grant-giving foundation.
"We started getting some donations and then the fundraising was circulated to everyone including Mr and Mrs Buckland [Jonny Buckland's parents], who got in touch and said we would be hearing from Coldplay," he said.
"When he [Jonny Buckland] was living here, he was in Christmas plays in the hall - he's familiar with it and still has a soft spot for the village and hall.
"It's great that someone who is famous and doesn't live here still thinks about us."
The disc, which features the signatures of all four band members, was a gift from music giant EMI to Buckland. It marks 100,000 sales in Germany of the album.