Jeyes to close factory in Mold, with loss of 117 jobs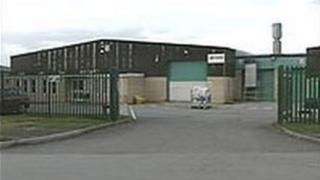 Cleaning products company Jeyes is to close its factory in Mold, Flintshire, next year, with the loss of 117 jobs.
Delyn AM Sandy Mewies said the closure of the site, which opened on the Bromfield Industrial Estate in 1979, was "a dreadful blow" for the area.
The firm announced a consultation with staff last year, following a review.
Jeyes said production would switch to Norfolk, and it would consult staff, councils and unions over the closure.
Nicholas Goodwin, Jeyes Group's chief financial officer, added: "We have today informed our employees in Mold in north Wales that the factory there will close early next year with the loss of 117 jobs.
"The decision will see production at Mold transferring to Jeyes' facility in Thetford, Norfolk.
'Terrible news'
"It follows a lengthy and thorough strategic review of Jeyes' global operations, announced to staff in December 2011 .
"We recognise that this decision will come as a great disappointment to our loyal and hard working staff, who have maintained consistently high standards throughout this review period."
AM Sandy Mewies said: "This is terrible news for the workforce who have been waiting more than six months to know their futures and I regret that the company decided to keep them on tenterhooks for so long."
She added: "I will now be asking the Welsh government and Flintshire County Council to offer what assistance they can to the workers who are being made redundant, including re-training.
"To lose so many jobs, particularly in the present economic climate, is clearly a dreadful blow for Mold and for north east Wales as a whole."