Two Wrexham pubs shut for 48 hours over under age sales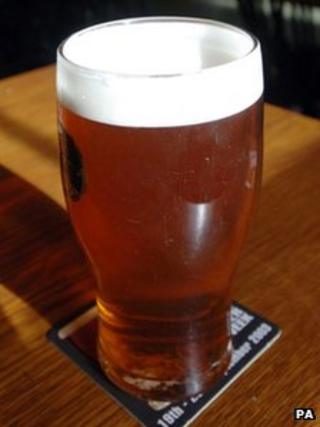 Two pubs are to shut for 48 hours for selling alcohol to under age drinkers on two separate occasions, say police and a council.
The Welch Fusilier in Wrexham will close its doors from 17:00 BST on Friday until the same time on Sunday.
The New Inn in nearby Johnstown will shut from 17:00 BST on 10 to 12 August.
It follows two test purchasing operations on the pubs by police and trading standards officers in March and June.
It is understood that the temporary closure order has not been used in the town before.
North Wales Police and Wrexham council's trading standards department said it regularly conducted test purchases to prevent and reduce under age drinking in the county borough.
They said on two occasions the Welch Fusilier and The New Inn were tested bar staff sold alcohol to a person under 18.
The bar staff were issued with fixed penalty notices of £80, and both pubs were offered the chance to close as an alternative to criminal prosecution.
Chief Insp Alex Goss of North Wales Police said: "This positive action is an example of the way in which the police and our partners are keen to enforce the licensing legislation to achieve our objectives of preventing crime and disorder and protecting children from harm.
"The closure of these two pubs is evidence of the tough stance we are taking on licensing offences."
'Violent crime'
Wrexham Community Safety Partnership, which the town's trading standards and police are part of, will launch a further campaign when children receive their GCSE results on 23 August.
Lee Robinson of Wrexham council and chair of Wrexham Community Safety Partnership said: "Under age drinking is a matter which the community safety partnership takes very seriously.
"We know that very clear links can be made between alcohol consumption amongst young people, anti-social behaviour and violent crime."