Magellan Aerospace in Wrexham wins Airbus contract extension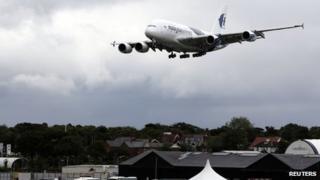 An aerospace company which makes wing parts in Wrexham has won a potential £370m contract extension to supply plane-maker Airbus with components.
Magellan Aerospace's contract to supply aluminium and titanium wing components will be extended by seven years.
Most of the parts will be made in Wrexham, where the firm employs 352 people.
They will be used to make wings in Broughton, Flintshire. The UK Business Secretary welcomed the deal.
Vince Cable said it was "great news" for the industry, adding: "It's a further demonstration of the breadth of the UK's supply chain."
Magellan and Airbus signed a four-year contract in 2008, which at the time was estimated to be worth £300m.
It is thought the latest contract, announced at the Farnborough Air Show, could generate revenues of more than £370m by December 2019.
The Wrexham plant will supply parts for the A320, A330 and A380 aircraft.
Haydn Martin, Magellan's business development director, said: "It's a really positive thing for the region and for the company.
"We have a number of expansion programmes in Wrexham - two extensions we have just finished and another planned for later this year.
"It's a real sign of Airbus' commitment to work with UK and north Wales suppliers, as long as we're globally competitive."
James S. Butyniec, president of Canada-based Magellan Aerospace Corporation, said: "This long-term contract with Airbus demonstrates our commitment to developing enduring relationships with our customers and investing the resources required to support their current and future requirements."