Cooks at St Joseph's School, Wrexham, win UK award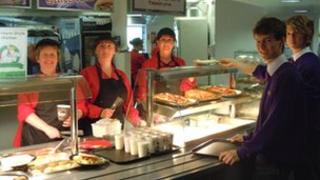 Cooks at a Wrexham school have been judged the UK's secondary school catering team of the year.
St Joseph's Catholic and Anglican High School won the Local Authority Caterers Association (LACA) award.
Head cook, Carol Edwards, said the school had worked hard to increase the popularity of school meals which meant "more children eating healthily".
Initiatives include a pre-order system, and a points scheme where pupils earn vouchers for eating healthily.
Vouchers can be spent in the canteen, or at selected high street stores.
The school estimates about 25% of meals are healthier options ordered in advance at a "smart kiosk".
The school says food meets food standards set out by the Welsh government's Appetite 4 Life Action Plan , and "non compliant menu items have been slowly phased out in favour of healthier compliant items".
LACA judges said: "The catering service provided at the school is considered to be the flagship service for the authority and that is due to the commitment and dedication of the catering team.
"They take great pride in working hard to promote the catering facilities as a restaurant for young adults."
Head cook Carol Edwards said: "It demonstrates what can be achieved by teamwork, with everyone pulling in the same direction.
"The result is more children having school meals and therefore more children eating healthily."