Takeover hopes for Remploy's Wrexham factory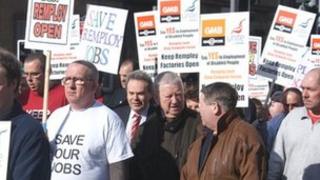 Forty workers at the closure-threatened Remploy factory in Wrexham are hoping jobs can be saved through a takeover.
Wrexham MP Ian Lucas says a company which employs staff with disabilities is to submit a revised proposal after its original bid for the town's plant was turned down.
The move follows talks this week including Remploy, Wrexham council, the Welsh government, the MP and staff.
Disability Employment, based at Stoke on Trent, has been asked to comment.
A Remploy spokesperson said for reasons of confidentiality, it was not in a position to disclose whether the bidder has made a submission.
"In line with our commitment to mitigating as many job losses as possible, compelling business plans will be given due consideration," he said.
'Going concern'
"If a revised business plan is deemed successful the deadline for submission of a formal bid is 31 August."
Last week the Welsh government announced a £2.4m scheme for employers in Wales who give jobs to former Remploy workers for at least four years.
The sites closing include Aberdare, Abertillery, Merthyr Tydfil, Swansea and Wrexham.
At least 183 jobs are expected to go.
Mr Lucas said he hoped that if the Wrexham bid was successful, the factory could be retained as a going concern, though there might be some changes.
"My understanding is that the company have put in a strong submission and this is encouraging," he said.