Disruption details given for work on bridge at St Asaph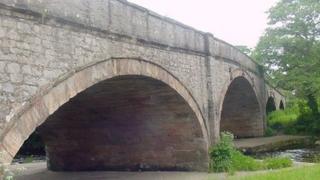 Residents in St Asaph are to be given details of road restrictions when work to repair a 242-year-old bridge begins.
Work is needed because the central arch under the bridge - one of the city's busiest routes - fails modern standards.
The bridge's A525 carriageway will be narrowed, and heavy goods vehicles will not be able to pass at the same time.
A drop-in session takes place at St Asaph Library from 15:00 BST to 18:30 BST on Monday.
The bridge, crossing the River Elwy, was built in 1772.
A recent inspection showed the condition of five sand stone arches has deteriorated and the central arch does not conform to modern loading standards.
Refurbishment
The carriageway will be narrowed over the central arch, but Denbighshire council says it will be wide enough for cars and small vehicles to pass in both directions.
However, it will not be possible for two heavy goods vehicles to pass over the central arch at the same time.
Starting in September, initial work - subject to listed building consent from historic monuments agency Cadw - aims to address the condition of the outer two arches.
Denbighshire council hopes the "more challenging refurbishment of the central three arches will be carried out during 2013".