Wrexham FC Racecourse stadium to be run by Paul Fletcher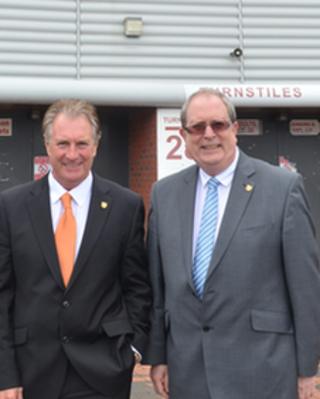 A former footballer has been appointed to spearhead the redevelopment of Wrexham FC's Racecourse stadium.
Paul Fletcher played for Bolton and Burnley was was later chief executive at both clubs, as well as Coventry and Huddersfield.
He also served as commercial director at the new Wembley Stadium.
Glyndwr University, which took over the Racecourse last summer, said he would work as a consultant director to boost student and community use of the site.
Mr Fletcher is regarded as an expert on stadium development, having overseen such projects during his time in charge of Bolton, Coventry and Huddersfield.
'Vision'
He said: "I am currently involved with a number of similar projects involving football and education and hope that my experience in stadium development will assist Glyndwr University achieve their own exciting plans for this famous stadium."
Prof Michael Scott, vice-chancellor at the university, said: "The appointment of Paul Fletcher to advise on the development of the stadium will support the university's continued development of higher education programmes related to sport, for the benefit of students and the wider community."
Wrexham FC football board director Don Bircham said: 'We share Glyndwr University's vision for a world-class stadium and will continue to strive for a team worthy of playing in it.
"I am delighted that the world's oldest international football stadium is in good hands."
Glyndwr University agreed to buy the Racecourse stadium in August 2011 to help safeguard the future of football and rugby league in Wrexham.