Anger over Ruthin's 'Yellow Brick Road' pavement markings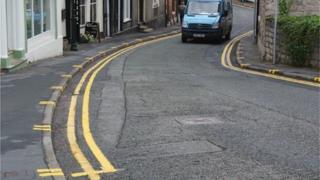 An online petition has been launched in protest at yellow pavement lines which it is claimed has "ruined" the look of a historic Denbighshire town.
Double yellow lines were painted on some town centre roads on Sunday, along with yellow pavement markings.
One critic suggested naming Ruthin "Toy Town". Another likened the scene to the Wizard of Oz's Yellow Brick Road.
Denbighshire council said the pavement markings are to show loading and unloading is prohibited.
In a statement, the local authority added: "Unfortunately, the size and frequency of the markings is governed by national regulations and is not something we can vary.
"The loading/unloading restrictions have been introduced on numerous streets but the longest sections are on Well Street, Prior Street, Castle Street and Wynnstay Road."
However, the markings have prompted an angry reaction from some of the town's residents, and an online petition has been started.
Critics have also posted comments on social networking site Facebook.
One person wrote: "With some people painting the outside of their shops any colour they wish and with what DCC has done to the town with the yellow lines I think we should rename Ruthin Toy Town. Any one seen Noddy?"
Another wrote that it had "ruined" the look of Ruthin.
Another comment said: "I am sure Dorothy will now be able to find her way to Oz with the help of the new and improved yellow brick road".
In February, Denbighshire council voted to take enforcment action against a shopkeeper who painted her Grade II-listed shop front purple.