Remploy Wrexham factory closure confirmed as takeover fails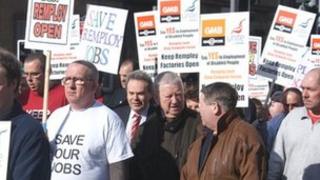 Remploy bosses have confirmed they have rejected a private bid to take over the Wrexham factory, safeguarding 40 jobs.
A statement said the factory will be closing as no successful business plans have been received.
Wrexham MP Ian Lucas described the news as an "appalling decision".
Last month, the Welsh government announced a £2.4m scheme for employers in Wales who give jobs to former Remploy workers for at least four years.
The Remploy sites closing include Aberdare, Abertillery, Merthyr Tydfil, Swansea and Wrexham.
At least 183 jobs are expected to go.
Mr Lucas paid tribute to the Wrexham Remploy workforce.
"They will be assets to any businesses and I appeal to Wrexham employers to now give them the chance to work denied by this government."
Wrexham AM Lesley Griffiths said she has written to potential employers to make them aware of the "urgency of the situation" in Wrexham.
"This is a situation nobody in Wrexham wanted to see come about," she said.
It is understood Disability Employment, based at Stoke on Trent, had put in the bid.
Remploy said the bidder has been notified the business plan was unsuccessful.
A Remploy statement said: "Remploy received an unsolicited bid in relation to the Wrexham site which, following assessment did not meet the business plan criteria and will not proceed to the next stage.
"As no successful business plans were received for the Wrexham site it will, as announced on 10 July 2012, be closing.