Jade Jones to have Flint Leisure Centre named after her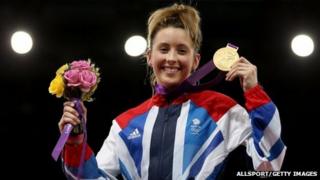 Olympic gold medallist Jade Jones will have a leisure centre named after her in recognition of her London 2012 win.
The Flint Pavilion Leisure Centre will be officially re-opened in the autumn and re-branded in the taekwondo champion's honour.
The 19-year-old was Team GB's youngest gold medallist.
The rising star will also tour her home town in an open top bus on Saturday 25 August and attend a civic reception held in her honour.
Flintshire council's chief executive Colin Everett said: "Jade's success will I hope inspire many Flintshire residents of all ages to take part in sport.
"An upsurge in demand for beginners' courses can be expected following Jade's inspirational Olympic success."
Flint's mayor Vicky Perfect said: "We are immensely looking forward to giving Jade the homecoming she richly deserves. Flint Town Council has supported her throughout and is ecstatic to be honouring her with this civic reception.
"We hope Flint people will put their flags out and come down to the town hall to show Jade how much we value her outstanding achievement in the Olympics."
Hundreds of people packed into the Flint Sports and Social Club - where Jones is a member - to watch her winning fight last week.