Driver ban after Tony Whitehouse death in Buckley crash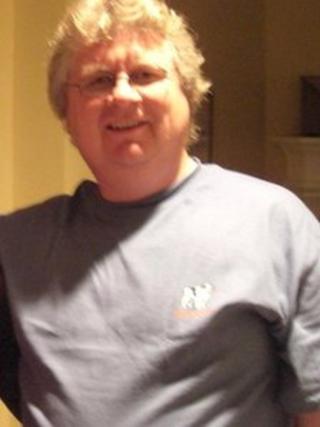 An experienced biker who had travelled the world was fatally hit just 200 yards from his home by a car driver who pulled out on him, a court has heard.
Tony Whitehouse, 51, died in hospital after the crash in Buckley, Flintshire, in April, Mold Crown Court heard. His pillion passenger was seriously hurt.
Jessica Stack, 23, a near neighbour of the father-of-two in Buckley, admitted causing death by careless driving.
She was fined £750 with £100 costs and banned from driving for a year.
The court heard Stack was remorseful about her "momentary lapse which had such devastating consequences" and wept throughout much of the hearing.
Huw Roberts, defending, said his client had lost her mother to cancer when she was aged 11 and was devastated that her actions behind the wheel had caused two other children to now lose a parent.
Justin Espie, prosecuting, told the court Mr Whitehouse was riding his Suzuki motorcycle with a pillion passenger at about 7pm on 2 April when Stack pulled out in front of him in her black Hyundai Getz car.
Mr Whitehouse was travelling between 28mph and 32mph in a 30mph zone and was correctly positioned near the middle of the road, the court heard.
The motorcycle skidded but the pillion passenger, a youth, did not remember the impact, the court was told.
Mr Roberts said it was a sad fact that the police investigation showed that if the motorcycle had remained upright then it could have stopped four to five metres short of the impact.
He said his client become reclusive since the incident, was suffering depression, nightmares and hallucinations and would have to carry the burden of the case for the rest of her life.
Mr Whitehouse's family later said they had lost a fun-loving man who leaves a daughter aged 13 and son aged 11.
They said he had ridden the Pyrenees and various other parts of the world, and had owned a large number of motorcycles.
His sister Susan Whittall said the family accepted the fatal crash was a tragic accident which could happened to anyone.
She said: "We all make mistakes, all of us. She never set out to kill him.
"We will have to live with what happened and she will have to live with it as well."