'Keep car keys safe' in Wrexham vehicle arson campaign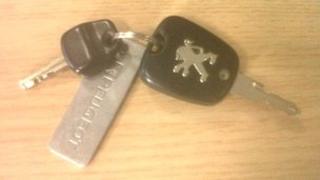 Keeping car keys safe is a major weapon in the fight against thieves who torch stolen cars, a new campaign claims.
Police and fire chiefs in Wrexham have launched a strategy to cut the number of stolen and abandoned vehicles set alight in the county.
Thieves increasingly look for car keys as a way to avoid the better security available for vehicle owners, they say.
By March this year, half of all deliberate car fires in north Wales had been in Wrexham county.
North Wales saw more than 170 deliberate car fires in the 12 months to March this year, with Wrexham having eight in one week.
North Wales Fire and Rescue Service said the number of fires involving abandoned vehicles have almost halved over the past three years but each incident still heightens a community's fear of crime as well as posing environmental hazards.
Firefighters have visited a Wrexham supermarket to hand out leaflets and advice as part of an information campaign aimed at cutting the number of stolen and abandoned vehicles set alight in the county.
Arson reduction manager Kevin Jones said: "Many stolen vehicles are set alight after use to destroy evidence.
"Firefighters can be tied up for extended periods of time dealing with these deliberate fires, putting their lives and the lives of local residents in danger.
"Over recent years car manufacturers have made vehicle security a priority with more and more sophisticated systems in place to stop thieves being able to take the car.
'Extra precautions'
"As a result criminals have resorted to more elaborate ways of stealing vehicles - such as car key crime.
"It is very important that vehicle owners are aware of this and take extra precautions to limit becoming a victim of car key burglary."
The campaign advises car owners not to leave car keys near a door or window, to lock the front door of their home and to park in a secure garage, if possible.
It will see fire crews handing out leaflets in a number of supermarkets in the town over the next week.