Fine threat for litter dropping in Wrexham town centre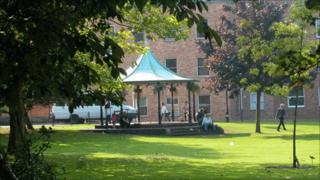 People who are caught dropping litter in Wrexham town centre are to be fined if they refuse to pick it up.
The crackdown comes as the council works with police in the town to try and clean up Llwyn Isaf and surrounding area.
Fixed penalty notices could be issued to anyone who refuses to pick up litter they have dropped under the plan.
If the penalty is not paid, a 'zero tolerance' approach will be adopted with offenders prosecuted.
Councillor Hugh Jones said there was a need to be more "pro-active" in dealing with the problem.
Leaving litter is anti-social behaviour which contributes to a general lack of pride in communities, he added.
"Recently Llwyn Isaf (the open space next to the Guildhall) and the surrounding area have been left strewn with rubbish and even though adequate bins are provided they are just not being used.
"Whilst we welcome the mainly young people who use this area, they have to accept responsibility for disposing of their litter in the bins provided," Mr Jones added.