One-way trial for Wrexham rail bridge at Stansty Road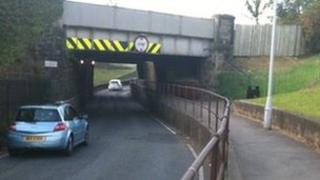 A narrow road used as a cut-through by motorists into Wrexham town centre is being made one way in a trial to improve access for pedestrians.
The Stansty Road rail tunnel is well known as a minor accident trouble spot.
The footway along one side of the road is also narrow and walkers find it hard to pass each other.
Now, Wrexham council is to make the road one way to widen the path in a six-week trial.
A temporary wider footway is to be built using scaffolding giving walkers, parents with pushchairs and wheelchair users two-way access.
Ward councillor Steve Wilson said it was also an opportunity to cut the number of journeys along the road by motorists who use it as a cut-through from the A541 Mold Road into Wrexham.
This, he said, had a knock-on effect of causing congestion during rush hour for families at nearby Plas Coch school, creating road safety concerns.
During the trial period traffic will operate one way only - from the town centre towards Plas Coch Retail Park.
Council officials will monitor traffic flows and consult residents, businesses and emergency services to see whether a permanent solution should be considered.
The road will close for three days from Monday to allow for the path to be built before the six-week trial gets under way.