Alicia Williams and David Platt: Wrexham river deaths inquiry continues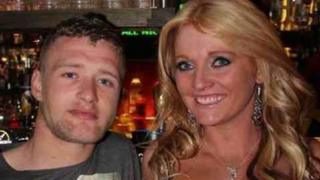 Post-mortem examinations are due to take place later on a couple believed to have drowned after entering a swollen river in Wrexham.
Family say they are devastated by the deaths of David Platt and partner Alicia Williams, both 25, from Ruabon.
The pair had been walking their dogs near the swollen River Clywedog at Felin Puleston on Wednesday.
Police said the deaths were being treated as unexplained with the likely scenario being a "tragic accident".
Mr Platt's uncle Peter Wright said his nephew had a "heart of gold" and would "do anything for anybody".
Asked what he knew about the incident, Mr Wright said: "Just what we've heard...that he's gone in for his dog, or she's gone in and vice versa perhaps."
He added: "My brother, his dad, is devastated, absolutely devastated."
Ms Williams leaves a young daughter.
"She loved animals. She'd do anything for them," said David Lloyd, who said he knew the dead woman when visited the scene on Thursday.
Ms Williams's body was found on Wednesday afternoon. Search teams found Mr Platt's body at about midnight.
Police said they had not found witnesses to confirm reports the pair had gone into the water to save a dog.
Det Chief Insp Mark Pierce, of North Wales Police, said the families of the couple were suffering a "huge amount of distress".
He said: "The two deaths are unexplained but the likely scenario is at the moment that there was unfortunately a tragic accident."
Midnight
Police have appealed for witnesses and said the couple were seen earlier walking with five dogs along the river which had been more swollen on Wednesday.
Local people said the Clywedog had risen by about four feet (1.2m) since this week's torrential downpours began.
Emergency services were called just after 17:00 BST after a member of the public found Ms Williams' body.
Det Ch Insp Pierce said that Mr Platt's body was found just after midnight following a search.
Mr Platt is understood to have worked at a local farm building children's play pens.
"It's speculation to say whether or not the dogs have gone into the river and one or both of the couple have gone in to save the dogs," said Det Chief Insp Pierce. "We haven't got a witness to confirm that."
Michael Morgan, who runs a car wash close to the scene, said he went to investigate on Wednesday after spotting dogs sitting beside a Citroen Picasso, which is thought to have belonged to the couple.
"The next thing we know an ambulance has come down," he said.
Paramedics asked for directions to a nearby location and after he guided them to the scene along the river they spotted a woman's body on a sand bank.
He said another man had managed to pull the woman from the water.
He said staff from nearby Erddig Hall, a National Trust-owned property, arrived on the scene along with crews from North Wales Fire and Rescue Service.
Sandra Davies said there was a close-knit community of dog-walkers in the area, adding: "Everybody's so friendly. It's very sad.
"It's such a shock too."
She said the river was "enormous" when she and her husband Geoff walked their dogs on Wednesday.
She added: "The banks have collapsed on different occasions and you do get worried about walking too near, especially with dogs who want to run and play, of course."
North Wales Police said anyone with information can call 101.