HM Stanley statue in Denbigh has face daubed in white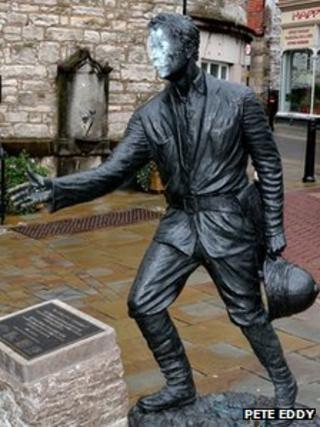 A controversial statue of Victorian explorer HM Stanley in Denbigh has had its face daubed in white.
The £31,000 bronze statue was erected in March 2011 after councillors voted to go ahead with it.
There has been opposition to it from critics who claim Stanley was guilty of crimes against humanity by aiding slavery.
The white substance does not appear to have been paint, as most soon off washed off in the rain.
Denbigh town councillor Gaynor Morgan Rees said the daubing might have been a prank.
More than 50 prominent figures signed a public letter opposing the statue before it went ahead.
"I saw the damage when I was on one of my daily walks," 70-year-old Pete Eddy told the Daily Post.
"There was a lot of aggro when the statue was erected although personally I never had strong feelings about it either way.
"Because of all the problems I am surprised it has taken this long for something like this to happen.
"It is a shame really because the statue itself is well made and I never like to see vandalism.
Missing explorer
"The damage does not seem serious so I am sure they will be able to restore it without too much of a problem."
The statue depicts Stanley with his hand outstretched ready to greet fellow explorer Dr Livingstone in Africa in 1871.
It was commissioned by the HM Stanley Commemorative Group and was sculpted by Nick Elphick.
A second statue has since been erected in St Asaph.
Ms Morgan Rees said: "It couldn't have been something pre-meditated or they would have used something more permanent.
"There has been a bit of controversy over the statue but most people are in favour of it and people have their photographs taken with it."