Ched Evans rape case: Cousin regrets naming victim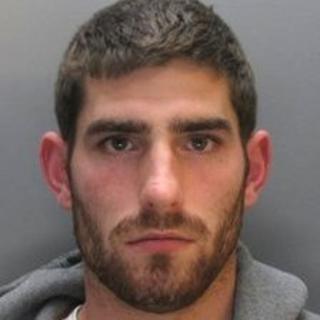 A teenager convicted of naming a woman who was raped by the former Wales international footballer Ched Evans says she regrets her actions.
Gemma Thomas, 18, of Rhyl, who is the footballer's cousin, wrote a message which included the victim's name on the social network site, Twitter.
She was one of nine people who admitted the offence and was ordered to pay compensation.
Thomas says she hopes it does not stop other victims from speaking out.
Rape victims are entitled to lifelong anonymity by law.
Former footballer Evans, originally from Rhyl, was convicted in April of the rape of a 19-year-old woman at a Premier Inn in the Denbighshire town.
Last month three judges at the Court of Appeal sitting in London refused to give leave to appeal by the former Wales and Sheffield United striker.
'The worst thing'
The judges also threw out a bid by Evans to have his sentence cut.
In an interview on BBC's 5 Live Victoria Derbyshire programme, Thomas said: "I definitely do apologise.
"I believe that rape is the worst thing that can happen to somebody."
But she said she did not know it was against the law to name victims of rape.
In November, Thomas, and eight other defendants were each ordered to pay the victim £624 in one of the first cases of its kind after they admitted revealing her identity.
Thomas explained how she was detained in a police cell for several hours before being interviewed by officers.
She says police told her people had made complaints about the victim being named, including women's aid group.
"That's when it really sunk in and I was like 'OK, I really shouldn't have wrote it' and I explained that I had took it off [the website]," she said.
'Innocent'
"Before now I never thought you could get arrested for writing something.
"I completely regret writing it now."
She said she hoped the case would not stop victims from coming forward for fear of being identified.
And she added that she hoped the case would prevent more people from saying things they should not on social media websites.
But she would not apologise to Evans's victim because she believes he is "innocent".
And she said she would have preferred to pay a "big fine" rather than pay his victim compensation.
She said "it was a bit hard thinking that I have got to pay compensation knowing that I know that my cousin is innocent".
Thomas was asked if she would apologise to the victim.
After a short pause, she said: 'I don't know. No."