Croesnewydd Road railway bridge, Wrexham, demolished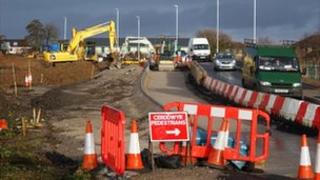 A Wrexham railway bridge is to be demolished to make way for a new carriageway.
Wrexham council says the original facing material for the bridge on Croesnewydd Road will be re-used.
The work to replace the weight-restricted bridge and build a new carriageway forms part of the Western Gateway scheme.
The £1.8m Croesnewydd Road Highway Improvement Scheme is due to be completed in February 2013.
The local authority says the new road will be safer for drivers and pedestrians.
It says sandstone, bricks and steel will be removed by a specialist demolition contractor.
Further works are proposed to build a new roundabout on Ruthin Road and a new spine road to link with the new junction on Croesnewydd Road at a later date.
Wrexham council leader Neil Rogers said: "It is very encouraging to see these important works taking place which will help to attract new business into Wrexham.
"We are continuing to make important investment in the infrastructure that will help to secure jobs in the Wrexham area."