Airbus wings ship Ciudad de Cadiz refloat bid fails again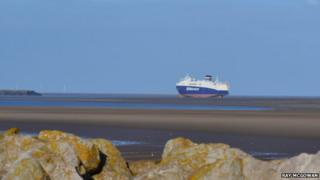 The latest attempt to refloat a ship used to ferry aircraft wings stuck on a sandbank in the Dee estuary has failed.
The Ciudad de Cadiz, which transports Airbus wings from Flintshire to France, is grounded outside Mostyn Docks after slipping its moorings in high winds.
The 125m vessel has been secured by three tugs and its crew of 23 still aboard.
Liverpool coastguard said another attempt to move it will be probably be made on Saturday.
That attempt would be made at high tide and if it fails the ship could be stuck there for another two weeks as the tides are reducing in size, a coastguard spokesman said.
The ship became grounded off Mostyn port at Wednesday lunchtime, and since then several attempts have been made to free it.
Airbus has said it was not a safety issue and "nothing to be concerned about".
It is understood the ship was waiting to go into port to pick up wings made at the Airbus plant at Broughton for delivery to the company's assembly factory at Toulouse in southern France.
The ship is one of three vessels used to ferry wings for the A380 Airbus super jumbo.