Airbus wings ship Ciudad de Cadiz refloat bid postponed for a week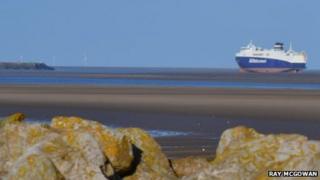 Attempts to refloat a ship carrying Airbus aircraft wings which is stuck on a sandbank in the Dee estuary have been postponed for a week.
The Ciudad de Cadiz, which transports Airbus wings from Flintshire to France, has been grounded outside Mostyn Docks since Wednesday.
The 125m vessel slipped its moorings in high winds but is said to be secure.
Jim O'Toole from the Port of Mostyn said experts believed the tides would not be high enough until next Saturday.
Liverpool coastguard says a spring tide on 11 February will be almost 2m higher than those seen currently and will give the vessel a better chance to clear the sandbank.
Mr O'Toole said the ship is secure and safe in its current location and poses no risks. Its crew of 23 are still aboard.
He said the port continues to operate as normally.
'Secure and safe'
The ship became grounded off Mostyn port at Wednesday lunchtime, and since then several attempts have been made to free it.
It is understood the ship was waiting to go into port to pick up wings made at the Airbus plant at Broughton for delivery to the company's assembly factory at Toulouse in southern France.
The ship is one of three vessels used to ferry wings for the A380 Airbus super jumbo.
An Airbus spokesperson said: "Recent high tides have been lower than predicted so a decision has been taken to postpone refloating the vessel until next Saturday 9th February.
"The vessel remains in a secure and safe position on the sand bank. There is no marine pollution, the ship is not damaged but stuck on the sand.
"It is an ongoing situation but the protection of the environment is a top priority for Airbus, and we continue to work closely with all the relevant authorities to ensure the earliest resolution to this issue."