Prestatyn vote mix-up: Allan Pennington challenges court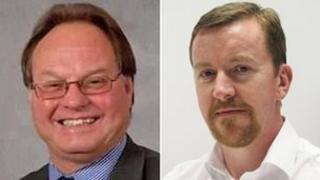 A councillor is challenging a High Court order to give up his seat after an election mix-up over similar names.
Conservative Allan Pennington was declared winner of the Prestatyn North seat on Denbighshire council last May over Labour opponent Paul Penlington.
But it later emerged he had been wrongly allocated a batch of votes that had been cast for Mr Penlington.
The result was reversed two weeks ago but Mr Pennington said he would lose his livelihood by stepping down.
Mr Pennington had originally been declared the winner by 508 votes to 366 but a recount established he had actually lost by 606 votes to 341. Human error was blamed for the mix-up.
Mr Penlington, who serves as a Prestatyn town councillor, was due to take up his county seat this week, but the formalities are on hold while his rival awaits the outcome of a formal objection to the court ruling.
Mr Pennington, who was mayor of Prestatyn last year, said he did not dispute the voting figures, but claimed Labour had not challenged the result at the count before it was declared, and had waited several days before raising the matter with council officials.
"I think their appeal should have happened on the day of the count," he said.
'Awful lot at stake'
"I've talked to a barrister in London and he tells me that once you've been sworn in, that's it, the decision stands.
"There's an awful lot at stake here for me. If I have to step down, I lose my livelihood. I'm 60 at the end of this month and if this job goes, I have nothing else."
The former engineer who works part-time as a taxi driver, added: "If I'm totally honest about it, I don't think I'll get anywhere, but I have to try."
He conceded that in the past six months he had attended only two out of 11 council meetings, but said he had been suffering from stress because of the dispute and had submitted sick notes.
College lecturer Mr Penlington said: "It's very frustrating and I'm very cross about it.
'Missed out'
"I can only conclude that this objection is a cynical attempt on Mr Pennington's part to cause further delay and allow him to cling on to the seat.
"He's trying to delay the process for reasons of his own. Until this is settled, I can't represent the people who voted for me in good faith."
He is due to meet council officials to complete the formalities to become a councillor.
But he was telephoned by his solicitor on Friday to say an objection had been lodged with the court.
"As a result I missed out on the chance to attend a council meeting yesterday to contribute to a discussion on the budget... a meeting that wasn't attended by Allan Pennington," he said.
Mr Pennington said he had been advised by officials to stay away from the meeting.
A Denbighshire council spokeswoman said it did not have all the fact and could not risk being in contempt of court by commenting.