Flint Roman finds: Call for full Croes Atti investigation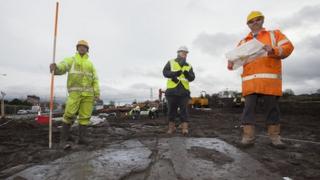 Newly unearthed Roman remains on a housing development must be properly investigated, residents have insisted.
The Roman settlement was found on the site of new housing at Croes Atti in Flint, and work has been halted.
Two local AMs, Sandie Mewies and Mark Isherwood, have both aired concerns that enough time is set aside for thorough checks on the discovery.
The Welsh government said Flintshire council and heritage body Cadw would be interested in responding to the find.
Mrs Mewies, the Delyn AM, has written to Heritage Minister Huw Lewis amid concerns that enough time is given to fully explore the site.
The find has unearthed a section of Roman road, pottery and evidence of an industrial complex processing lead and silver mined at nearby Halkyn Mountain.
The discoveries were made as groundwork began on an 180-house scheme.
A three-week exploration of the site is under way, funded by construction firm Anwyl and the heritage body Cadw.
Mrs Mewies said: "I appreciate that the developers have stopped work to allow an exploration of the site to take place.
'Anxious to receive assurances'
"But I have been contacted by constituents who are anxious to receive assurances that enough time is given for a full exploration.
"I feel it is extremely important to fully examine the site as the find could be of great historical significance for the area.
"I have asked the minister to ensure that officials scrutinise the process carefully and have also sought the comments of the heritage body Cadw and Flintshire County Council."
North Wales AM Mark Isherwood said in the Senedd chamber that it was an exciting discovery, and urged the Welsh government to explain if powers existed "to ensure that adequate time is given to inspect this important historical site before further development goes ahead."
Mr Isherwood has asked the Welsh government to use measures which mean the developers would need to seek separate consent before continuing work, and that the Welsh government or local council could step in to withdraw planning approval if necessary.
He was told by the Leader of the House, Jane Hutt, that both the local council and Cadw would be interested in responding to the "great interest" in the discovery.