Facebook rape case: Judge orders prosecution explanation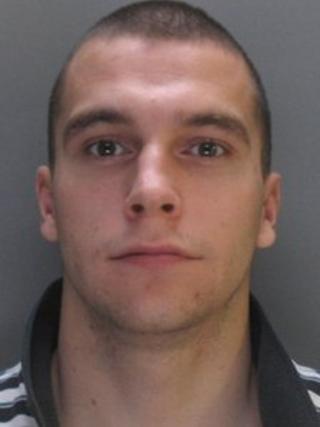 A judge has asked prosecutors to explain why a rapist from Flintshire was not brought to justice earlier - potentially preventing another attack.
David Edgerton, 23, was convicted of rape on Wednesday after dragging a schoolgirl into woods near Mold.
At Mold Crown Court, Judge Merfyn Hughes QC questioned whether he should have been prosecuted earlier for other attacks, including rape.
Edgerton, from Connah's Quay, will be sentenced next month.
Described as a serial sex offender, he has already been told he will face a lengthy custodial sentence, after being convicted of two rapes, attempted rape, attempted abduction, and assaulting a 10-year-old girl with intent to commit a sexual offence.
Judge Hughes told Edgerton: "You must realise that the sentence you will receive in due course will be a very long one."
But the judge also told the prosecutor that he wanted answers from the Crown Prosecution Service (CPS) about why earlier offences had not reached the courts.
In 2009, Edgerton raped a Deeside woman at her home, but the case did not proceed to trial.
In 2011, the sex offender assaulted a 10-year-old girl in Broughton, with a clear intent to carry out a sexual offence. However, he was thwarted when two members of the public intervened. The attack was not pursued at the time.
In August 2012, Edgerton raped a Warrington woman in her 40s, and was one of the charges the rapist was convicted of at Mold Crown Court.
Then last summer, he first tried to abduct a schoolgirl at Leeswood. A few hours later he returned to the same spot and abducted and raped another girl, 14.
During that harrowing attack, his victim managed to message her sister's Facebook account on her mobile phone, writing "help" and "raping me" after being dragged off a street into Blast Woods at Leeswood.
The judge said that when one or even two complaints had been made, a decision not to prosecute may have been reasonable decision making.
But when further complaints were made, then a more holistic approach by police and the CPS may well have prevented the Leeswood attacks, he said.
Judge Hughes stressed that he was not criticising anyone at this stage but asked for a full explanation from the CPS for the next occasion.
"I would have thought that by the time of the third complaint a different view might have saved the schoolgirl from the attack imposed upon her in August," he said.
Following Wednesday's convictions, a spokesperson for the CPS said: "We welcome the conviction of David Edgerton. It is not unusual for a judge to request further explanation about a case.
"As requested, we will look into any previous involvement there may have been from the police or CPS, and will provide further information to the judge."
Edgerton will be sentenced in three weeks.