Clwyd Estuary: Rhyl sewage spill warning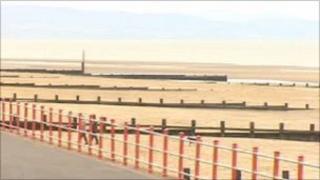 A warning has been issued about water quality in the Clwyd Estuary at Rhyl, Denbighshire, after a sewage spill.
Environment Agency Wales said the spill was from a burst sewage pipe at an industrial estate in Kinmel Bay and called for quick repairs.
Denbighshire council has issued an alert about the potential of poor water quality along its coastline and is erecting warning signs.
Welsh Water said it was working to minimise the burst's impact.
It said the burst will be repaired as soon as the ground is drained.
The Environment Agency said it was making sure all is being done to stop the pollution, which entered the Ffynon y Ddol stream before reaching the estuary at source.
It also warned that bathing water at Rhyl was likely to be affected as the spill continued.
David Edwell, from Environment Agency Wales, said: "We are urging Dwr Cymru Welsh Water to carry out this repair as quickly as possible to limit its impact.
"Our officers have taken water samples from the estuary and beaches for analysis to assess the effect this incident is having on the environment.
"This will form part of our investigation as we consider what enforcement action we will need to take as a result of this incident."
Heavily diluted
The burst pipework is between the Westbourne Avenue pumping station to the Kinmel Bay wastewater treatment works.
The council said the sewage system and the River Clwyd have high levels of water from the recent heavy rains, and the sewage has therefore been heavily diluted. But it advised that people and animals should stay out of the water until further notice.
Anyone who comes into direct contact with this water are advised to wash with soap and clean water.
In a statement Dwr Cymru Welsh Water said they were dealing with a burst on their wastewater network which has occurred close to Kinmel Bay Industrial Estate.
"We have a team onsite and we are also working closely with Environment Agency Wales to minimise the impact of the burst on the surrounding area," the water company said.
"Due to the wet conditions of the land where the burst has occurred, it is not yet possible for us to start the repair work but we are working to remove excess water to allow us to begin the repair.
"No services to customers are affected by the burst and we would like to assure people we will do all that we can to complete the repair as soon as possible once ground conditions improve."