North Wales incinerator: Sita drops £800m Deeside bid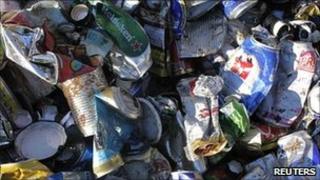 One of the two companies shortlisted to build and operate a giant incinerator to burn non-recyclable waste from across north Wales has pulled out.
A consortium of five local councils plans to build the plant on the Deeside industrial park in Flintshire.
A 25-year contract worth about £800m is due to be awarded in the coming months.
Waste management company Sita UK has withdrawn, leaving the consortium to decide if the contract should go to Wheelabrator Technologies Incorporated.
In a statement, Sita UK chief executive David Palmer-Jones said: "After careful consideration we have decided to withdraw from the north Wales procurement tender.
"The key reason is that upon review, in the current economic climate, this project ranks lower for us than our other opportunities.
"We would, however, like to wish the partnership every success for the future."
Representatives from the five councils involved in the project are due to discuss Sita's decision at a meeting of the North Wales Residual Waste joint committee in Llangefni later on Wednesday.
A spokesman for the North Wales Residual Waste Treatment Partnership said: "The three-year procurement process is reaching the stage of closure of 'competitive dialogue'.
"A final selection decision between Sita UK and Wheelabrator Technologies Incorporated - the two bidders selected for the final stage of competitive procurement from the original seven - had been planned to be made over the summer.
'Highly competitive'
"Both bidders had submitted highly competitive bids with competitive pricing offers and proven technological solutions.
"Negotiations will now continue with Wheelabrator alone before a final decision is made on whether to appoint them as the preferred bidder."
The decision to site the incinerator close to the Shotton Paper Mill on Deeside Industrial Park has met widespread opposition from communities on both sides of the Dee estuary.
The incinerator is expected to be operational by 2017, with the Welsh government providing £142m towards the scheme.
It will handle up to 150,000 tonnes a year, diverting waste from landfill sites in Anglesey, Conwy, Denbighshire, Flintshire and Gwynedd.