Greencroft, Deeside: Support for care home amid concern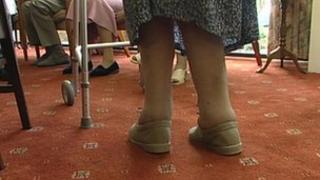 Families of dementia and Alzheimer sufferers claim their relatives will be put at risk if their Flintshire nursing home is forced to close.
The Care and Social Services Inspectorate for Wales (CSSIW) applied for an emergency closure of Greencroft, Deeside, at a court hearing in Mold.
But that was withdrawn after it was indicated health officials would cancel contracts for the home's 21 residents, allowing its gradual closure.
Families plan to hold talks on Monday.
During Friday's hearing before Mold magistrates, lawyer Adrian Perkins, for CSSIW, initially applied for the emergency cancellation of the home's registration.
He said that despite repeated attempts by the authorities to secure improvements, real "risks" remained for residents. However, details of the risks were not made public in court.
Last September a resident at Greencroft died in a hospital burns unit after treatment for scald injuries suffered in an accident at the private care home a month earlier.
'Corrective action'
But relatives who attended the hearing praised the care provided under a new owner and manager.
Neil Grant, lawyer for the home, described the authorities' action as a "mess", a claim denied by their lawyer.
Mr Perkins told the court that Flintshire council and Betsi Cadwaladr University Health Board (BCUHB) had indicated a decision to terminate their contracts for residents at Greencroft and to monitor it on a daily basis, so CSSIW did "not anticipate the need to proceed with this application".
Mr Grant said: "I am bemused as to why we are here today, bearing in mind Flintshire and the local health board a couple of weeks ago identified a new corrective action plan."
He said research showed that death rates rose threefold among elderly, frail and dementia victims who were moved out of their homes.
Mr Grant said 20 families had produced letters of support for the home and he claimed the CSSIW accusations were "exaggerated and misleading".
Home owner Timothy Ogunleye, who has seven other homes, said he was disappointed with the outcome but did not want to comment further.
District Judge Andrew Shaw said he was not clear "what was the precipitating event" which had led to the CSSIW's initial request for an immediate cancellation of the home's registration, but since the application was withdrawn it was no longer an issue for the court.
Families of residents agreed to meet at Greencroft on Monday to decide their next move.
Flintshire council said it will work with the health board and home staff to "ensure residents receive appropriate on-going care whilst alternative arrangements are put in place".
The health board has been asked to comment.