Michael Gray jailed after threat 'contributed' to heart attack death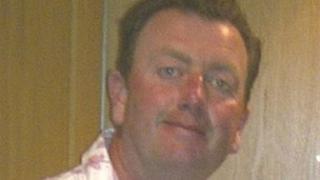 A 24-year-old man has been jailed for 20 weeks for threatening behaviour during a row in which a man had a heart attack and later died.
Jonathan Sillett, 42, who had a history of heart problems, collapsed and died as he argued with Michael Gray, Prestatyn magistrates were told.
Gray had been doing handbrake turns on a field near Mr Sillett's home in Prestatyn on 21 July last year.
He admitted a charge of threatening behaviour.
The court was told Mr Sillett confronted Gray who, surrounded by a group of his friends, made a threatening gesture by punching one hand into the other.
Seconds later Mr Sillett collapsed. He died later that day.
Jailing Gray, who is also from Prestatyn, District Judge Andrew Shaw said: "It was not your intention to cause Mr Sillett's death but your actions contributed towards it."
He described the situation as "frightening and intense" and said: "You literally brought trouble to his door."