Wrexham mines centre's flats plan refused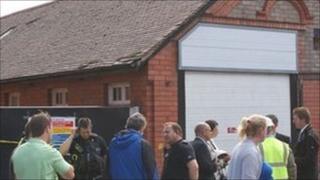 Plans to turn a former mines rescue centre in Wrexham into student accommodation have been refused by councillors.
The listed building, dating from 1912, was once used to train miners to rescue colleagues involved in pit accidents.
Businessman Neville Dickens was fined £2,000 in 2011 over unauthorised demolish work, which was interrupted.
Councillors rejected a recommendation by officers to approve the new owner's proposal to convert the building.
The centre closed in the 1980s and was handed to the fire service before it passed into the ownership of Mr Dickens, a former chairman of Wrexham Football Club.
Planning permission to clear the site to make way for eight apartments was originally granted in 2004 and renewed in 2007.
But in August 2010 police were called after two workmen with a digger partially demolished that part of the site containing the historic training gallery.
'Historic interest'
Mr Dickens, a motor dealer, pleaded guilty to the unauthorised demolition of the listed building on Maesgwyn Road and was fined £2,000 and ordered to pay £1,700 costs.
The new owner applied for permission to convert the building to 19 student rooms, with four parking spaces.
Speaking before Monday's meeting, and recommending the plans be approved, the council's head of community and wellbeing and development Lawrence Isted said: "Whilst it is noted that the building was listed for its special historic interest as a mines rescue training centre and headquarters, the council cannot insist that the building be used for a specific purpose.
"The applicants have proposed a use which is acceptable in local and national planning policy terms and there is no requirement to justify a need for student accommodation.
"Subject to the implementation of this use without causing damage to the special features of the building, I consider the proposed use is acceptable."