Partnership protects sand lizard at Prestatyn beaches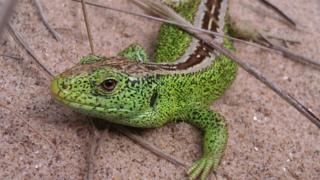 Action is being taken to protect a colony of rare lizards in north Wales.
Ten years ago captive sand lizards were reintroduced at Presthaven Sands in Denbighshire after they disappeared from the wild 40 years earlier due to their habitats becoming fragmented.
The were also returned to dunes at nearby Barkby Beach in Prestatyn.
Presthaven Sands Holiday Park, North Wales Wildlife Trust and Flintshire and Denbighshire Countryside Services are helping to protect the lizards.
Coastal Ranger Mandy Cartwright started the drive to remove the non-native clematis from the dunes which will allow natural vegetation to move in and expose bare sand to create ideal habitat for the lizards.
She said: "Sands lizards require a balance between vegetation to hide from predators and bare sand to bask and lay their eggs.
"Volunteers have been key to this project and this important work could not have been achieved without all their hard work and enthusiasm."
'Difficult year'
Volunteers survey the lizards each year to monitor their population and distribution.
Coun Carolyn Thomas, vice chair of Flintshire council and biodiversity champion, said: "I'm really pleased that partnership working has helped to ensure that the sand lizards have a bright future at Gronant.
"We are still keen to recruit as many volunteers as possible to help remove this non-native vegetation."
Lizzy Webster, biodiversity officer for Denbighshire council, added: "Ensuring the habitat is in optimum condition is really important for the sand lizards.
"They had a difficult year in 2012 because of the wet weather and cool temperatures, so we need to give these rare creatures every possible chance of reproducing successfully.
"The habitat improvements at Presthaven and similar works planned for Barkby Beach should help improve the sand lizard's chances of successful breeding in 2013."
Contact Lizzy Webster on 01824 708263 or email elizabeth.webster@denbighshire.gov.uk.