Howell's School, Denbigh: Helen Price 'treated like animal' claim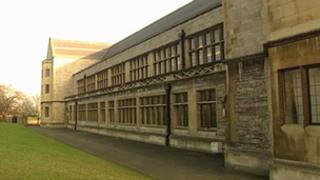 The partner of a head teacher sacked by a private girls' boarding school in Denbigh has told an employment tribunal she was treated no better than an animal by the school's trustees.
Helen Price, former head of pastoral care at Howell's School, believes she was suspended solely because of her association with Bernie Routledge.
Both claim unfair dismissal and breach of contract at the Shrewsbury tribunal.
It has heard Mr Routledge was accused of "inappropriate" chat with pupils.
Bernie Routledge, who gave evidence at an earlier hearing in Wrexham, was suspended from his position as head of Howells in May 2011.
It followed concerns about his conduct and communication with pupils on a Facebook page called The Bernard Routledge Appreciation Society.
He was later sacked following a disciplinary hearing.
Ms Price, who had worked at the school for 13 years, was also suspended and eventually dismissed.
She told the tribunal she did nothing wrong and claimed there had been a campaign to get rid of her, because of her relationship with Mr Routledge.
Ms Price said up until January 2011 she had a good working relationship with trustees Robbie and Nicola Locke.
However, she said the way she was treated after that was "disgusting and very, very unfair".
'Awful time'
Ms Price said lies were told about her and her work, so she brought a grievance against them.
She told the tribunal she is still awaiting the outcome, and has never had a disciplinary hearing, despite asking for one via her legal representatives.
Ms Price became pregnant while suspended and was sent a letter of termination for her job, days before her intended return to work date.
The letter offered the chance to appeal against the decision, which she did, but heard nothing back, the tribunal was told.
"They showed a lack of respect and regard for another human being", Ms Price said.
She said it was also difficult for her daughter, who was a GCSE pupil at the school.
Some teachers were not nice to the girl, it was claimed, and her mother was prevented from attending speech day where she was receiving a prize.
"It was an awful time," Ms Price added.
The tribunal, which continues, has previously heard how Mr Routledge's suspension followed "inappropriate" chat between the head and pupils on social media websites.