Ysgol Clywedog put in special measures by Estyn, says head teacher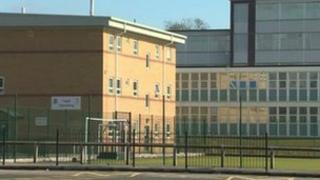 The head of a Wrexham high school has sent a letter to parents saying it has been put into "special measures" after an inspection.
Martin Hulland took over at Ysgol Clywedog 17 weeks ago and says it has so far proved "impossible to rectify the legacy of previous regimes".
He says the move means Estyn school inspectors will monitor progress each term which will lead to improvements.
He said the report on an inspection in January will be published next week.
In his letter, Mr Hulland says: "I am well aware that this will cause a degree of concern to all parents.
"I am disappointed, but not surprised, by the outcome of the inspection.
"The school has not made enough progress in addressing nearly all of the recommendations from the last inspection report in 2008.
"It has proved to be impossible to rectify the legacy of previous regimes here at Ysgol Clywedog in my first 17 weeks as head teacher."
Estyn said it does not comment on individual inspection reports while Wrexham council said action was needed at the school.
"As a local authority we have had concerns about performance at Ysgol Clywedog for some time and we have challenged and supported the school to make improvements," said councillor Michael Williams, the authority's lead member for children's services and education.
"We will continue to work with the school in the coming months to secure the further improvements that are necessary.
"We recognise that robust action must be taken in order to ensure that pupils in Wrexham have access to the best quality education."